Dolapo Badmus, the Police Public Relations Officer, has disproved report of her saying that men can sue women who declined coming to their house after sending transport fare.
The report alleged that she said the lawsuit is backed by Act 29:Section 132 of the criminal code and can attract a 5 year imprisonment sentence.
However in an Instagram post, the PRO. dissociated herself from the report and further described it as a "false statement".
In her words she wrote;
"Disclaimer!!! MY ATTENTION HAS BEEN DRAWN TO THIS FALSE STATEMENT CIRCULATING PURPORTEDLY FROM ME! I DID NOT AT ANY POINT MAKE THIS STATEMENT AND IN MY USUAL CHARACTER IF I HAVE MADE IT I WILL STAND BY IT BUT NEVER AT ANY POINT HAVE I MADE SUCH! I HEREBY DISASSOCIATE MYSELF FROM It! THANK YOU."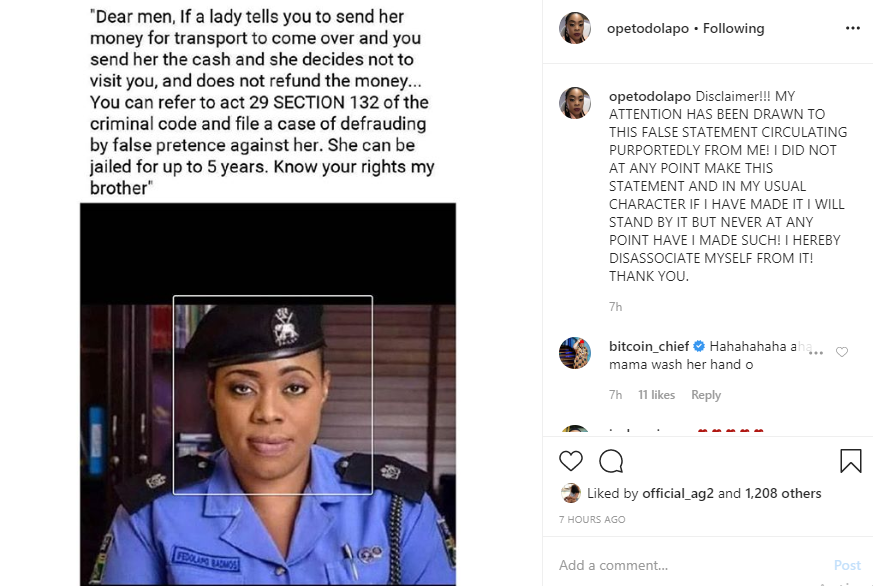 (c) Bennievibes 2020